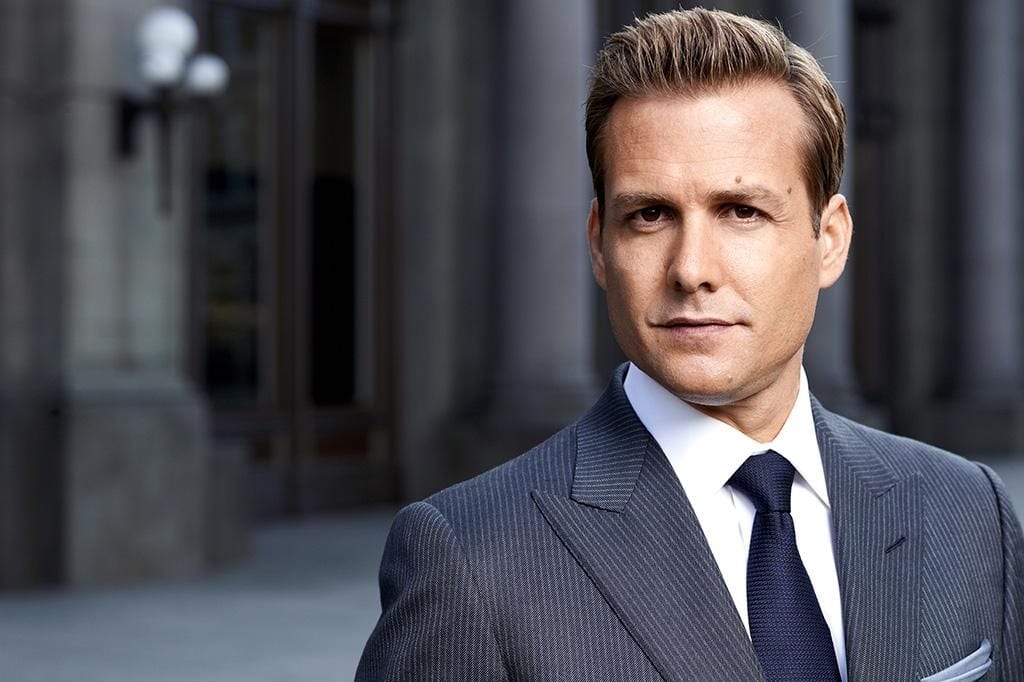 Why we love Harvey Specter
Even in the first season, Harvey Specters style was a hot topic. Now that the fourth season is coming in June, it is all people talk about. There even is a 'how to dress like Harvey Specter'-Wikipedia and a biography.
What makes this man, this character, so irresistible to women and men, besides being good-looking and cocky with a good sense of humour? It is because he is dressed for the part, dressed for success and, most important, his suits of choice are tailored.
"People respond to how you dress so like it or not this is what you have to do"
Harvey Specter is a partner at the fictional New York law firm Pearson Spector and considered the best closer in New York City. He is charming, with a smooth smile, witty, confident and you know he is the smartest guy in the room. A men's man, surrounded by sports paraphernalia, an impeccable taste and an eye for detail.
His suits are created to convey his level of power. To be that person in the room that everyone looks at and looks up to. Intimidation and power play through razor sharp trousers and three-piece suits that are tailored with utter precision. On the show, Harvey tells his new associate to spend a lot of money on a well-tailored suit, like his.
So let's break down the suits he is wearing.
Most suits are Tom Fords or Ralph Laurens (purple label) a combination of conservative and modern elements are giving power suits a contemporary aesthetic. The tailoring is done so sharp, close to the body with incredible precision, that Harvey's suits appear slim fit but actually just match the great physique of the actor, Gabriel Macht. (Who has a great physique…) Wide enough at the shoulders and fitted in the waist to show the V-shape of a men's body. The trousers are slightly tapered to make the legs look longer with a flat front. A single pinch plead on the occasion.
Most of Harvey's suits have a wider peak lapel that emphasise broad shoulders which show strength and make him 'the man in charge'. Especially in combination with the spread collar shirts, a more formal look. His ties are quite wide (3-3,5 inch) and always in a Windsor knot, as he is a formal man with a dimple in his tie. This tells us that he is concerned with how he looks but has a great eye for detail as mentioned before. In one of the episodes, the dimple in his tie is slightly off-centred and he is confronted by his assistant Donna who knows by looking at it that something is wrong.
Harvey seems to favour a bespoke shirt in white or light blue where his suits are usually quite dark.  Bold, strong colours in a dark spectrum, often with an even bolder pinstripe. The thick pinstripes communicate his superior intelligence and give him that 'man in charge, boardroom'-look. And, not afraid of a three-piece suit, where others mostly wear a two-piece. This look is much more formal than what we have been used to lately, but for Harvey it shows that he has arrived. He knows that style and elegance need to seem effortless but present you with a hint of success. He knows he is the man and his suits speak for him. He is in control. Not playing up to trends as he is a classic guy, confident. Rich fabrics, like a quality wool make suits look better than outstanding, but he even rocks a beautiful flannel three-piece in light-grey.
On various occasions, Harvey tells his associate there is a situation, and those require tuxedos. His own brilliant taste makes the tuxedo a typical 'Harvey suit', again. Jet black and perfect cut, slightly padded on the shoulders, trademark peak lapels but, out of character, not a waist cover. Or should we say, completely in character? A man with the impeccable style of Harvey Specter and his sophistication might not need to wear a waist cover at all and therefor it is a conscious style choice. Looking effortless and dressed for the part, although not entirely as dress codes or guidelines tell you. His bow tie is a perfect example. The shape is more diamond-like shaped than most but compliments his peak lapels very well.
On the accessory department, he keeps it simple with style. Cufflinks and watches, simple but expensive show that he knows how to keep the focus.
So, to sum it up; Harvey's suits feature wide peak lapels, flapped pockets with a ticket pocket, double/side vents and boutonniere. His personal style is formal but also daring for the boardroom type of look. He shows confidence and breathes success. And is dashingly handsome too. That helps.