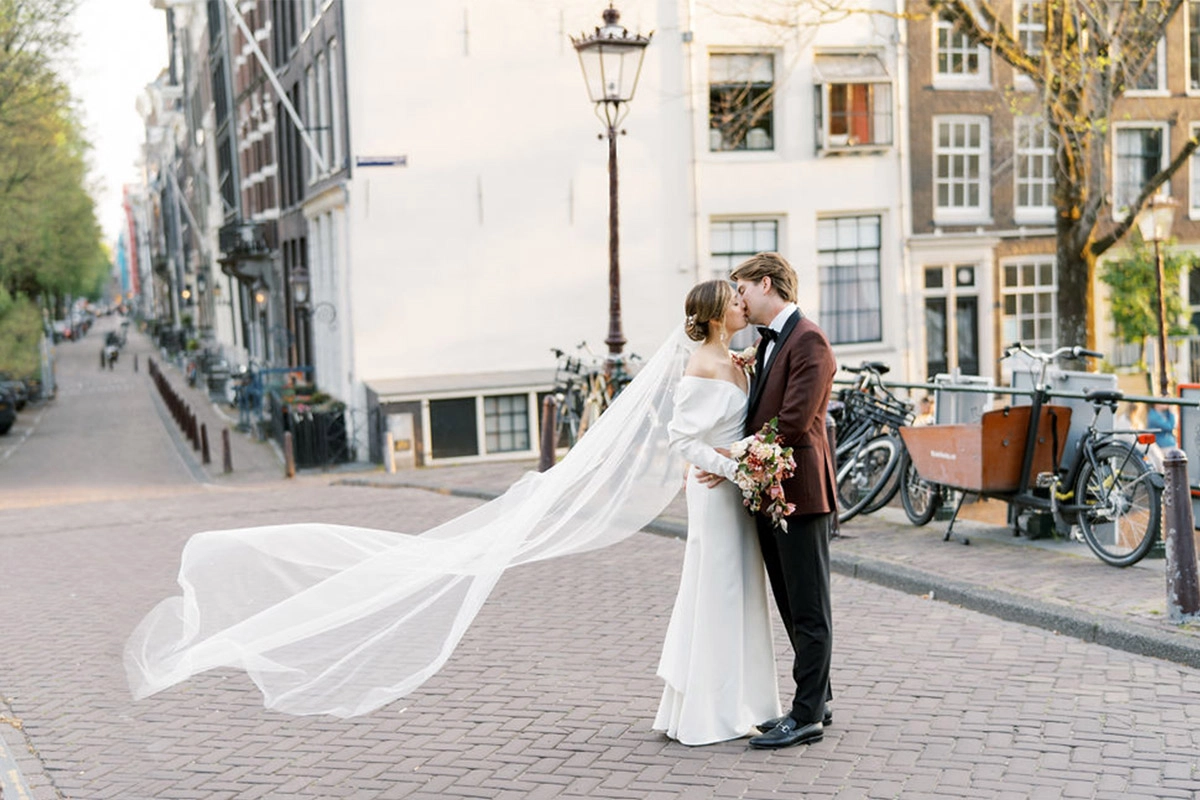 Max & Ciarra
"My name is Max, I grew up in Chicago before moving to Amsterdam almost 2 years ago with my now wife Ciarra. We moved here for my job in Finance and couldn't love the city any more. We enjoy going to our local market, traveling around Europe, and having our friends over for dinner."
How did you prepare the proposal?
"In America the proposal process is a bit drawn out. We got engaged while living in Chicago before the move over here. I coordinated a lot with Ciarra's mother to try to keep the occasion a surprise and also plan for the family to be involved in the celebrations that came afterwards. Ultimately I convinced her to go for a walk in our favorite park, despite the rain, and asked her then. We then drove back to our parents' neighborhood for a surprise party with our families."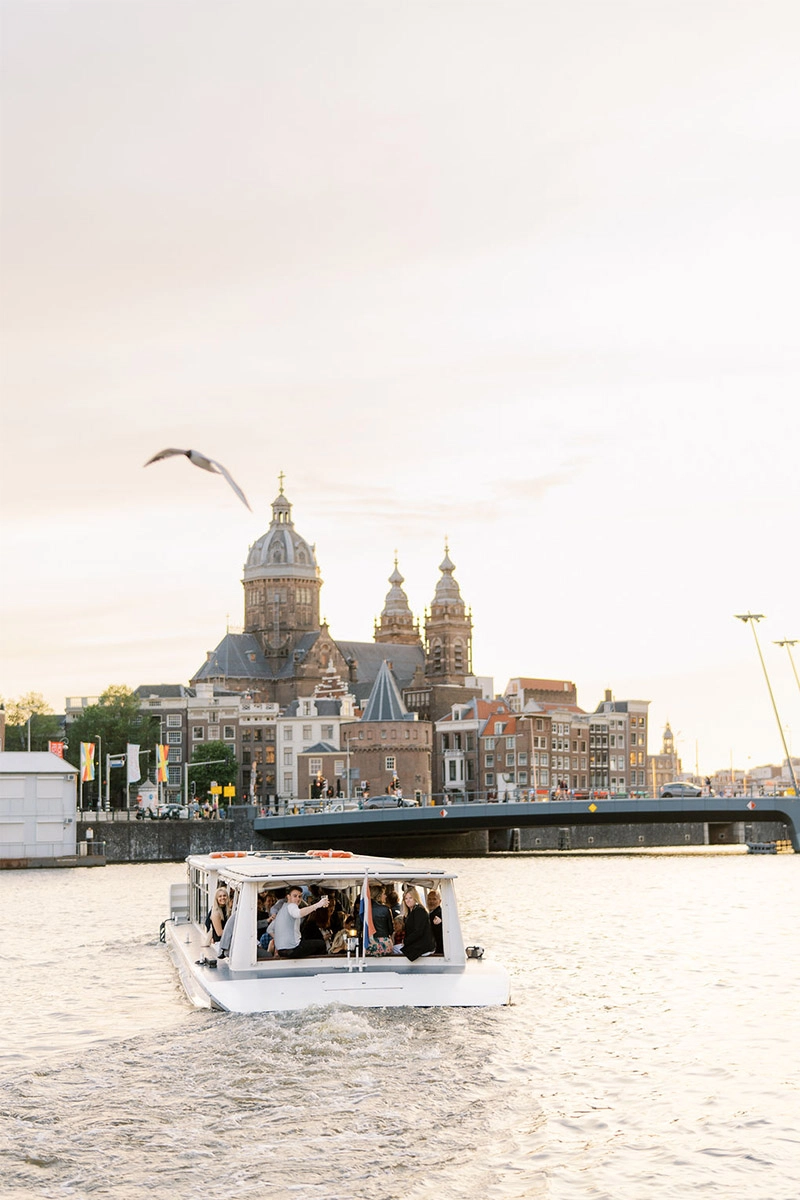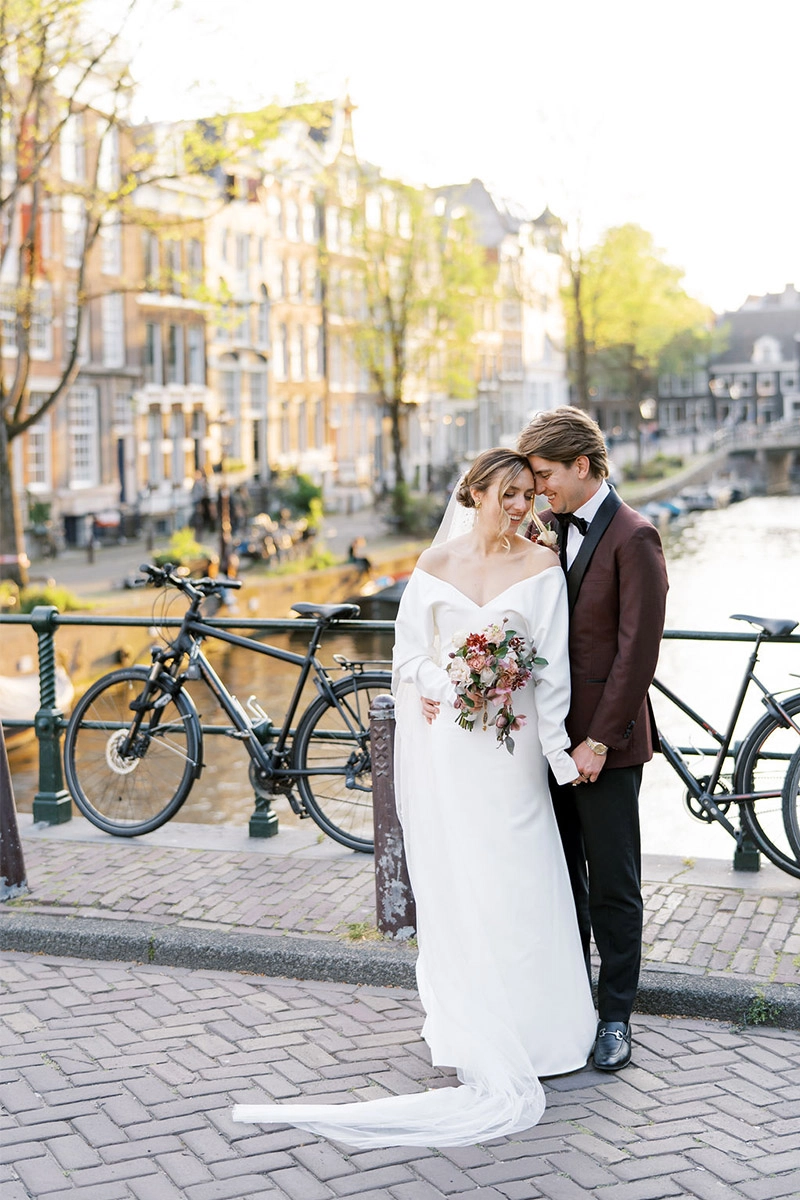 Why did you choose to do a wedding in Amsterdam? 
"We chose to get married here in Amsterdam for a few reasons. First and most importantly it provided an opportunity for our friends and family to come and visit us here. We also just really enjoy being here and wanted to always remember our time here and what better way than to have an event like our wedding. It was also a lot easier to coordinate a wedding in Amsterdam while living here (even if there were some, but not too many, language barriers) rather than having to travel and coordinate in Chicago which is probably where we would've done it otherwise."
"This was what I was really looking for, a more individualized experience."
When and how did you start looking for your wedding suit?
"I began thinking about what I'd want pretty early. I knew that suits can take a lot of time and I didn't want to cut it close in crunch time. I think we had my first appointment 9 months before the wedding date, so I left plenty of time for surprises."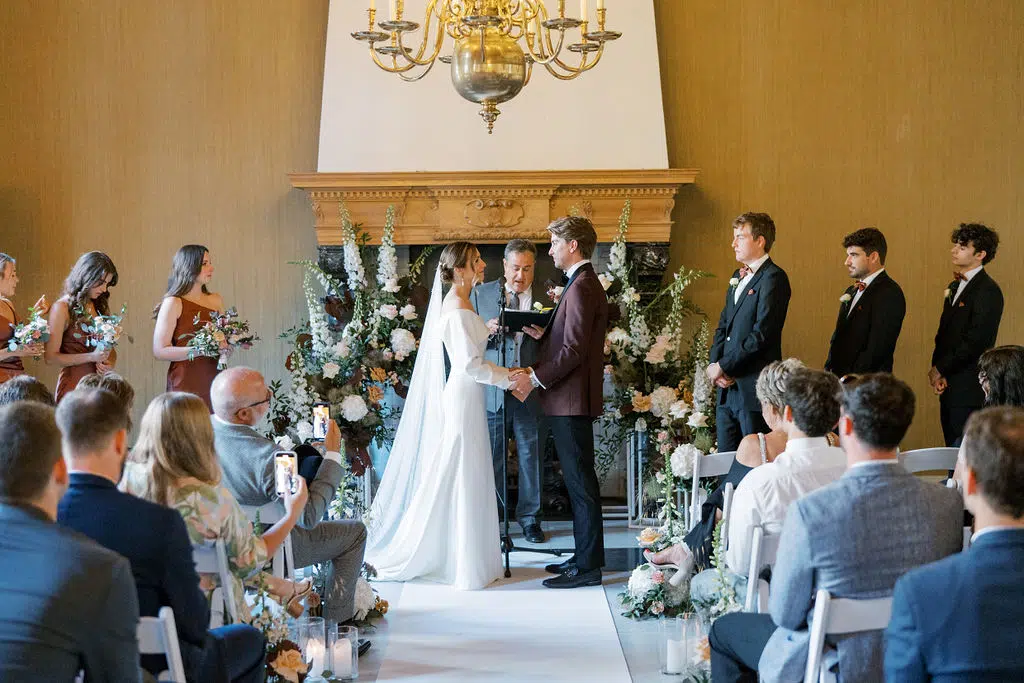 How did you end up at Michael & Giso, and what was the decisive factor in choosing your wedding suit here?
"I didn't have to look very far! Our apartment is just down the street and we walk down Willemsparkweg all the time. I noticed Michael & Giso pretty quickly as a smaller more local feeling tailor, especially as compared to some of the competitors down the street. This was what I was really looking for, a more individualized experience where I could trust the people involved and that the tailors would care also about the result."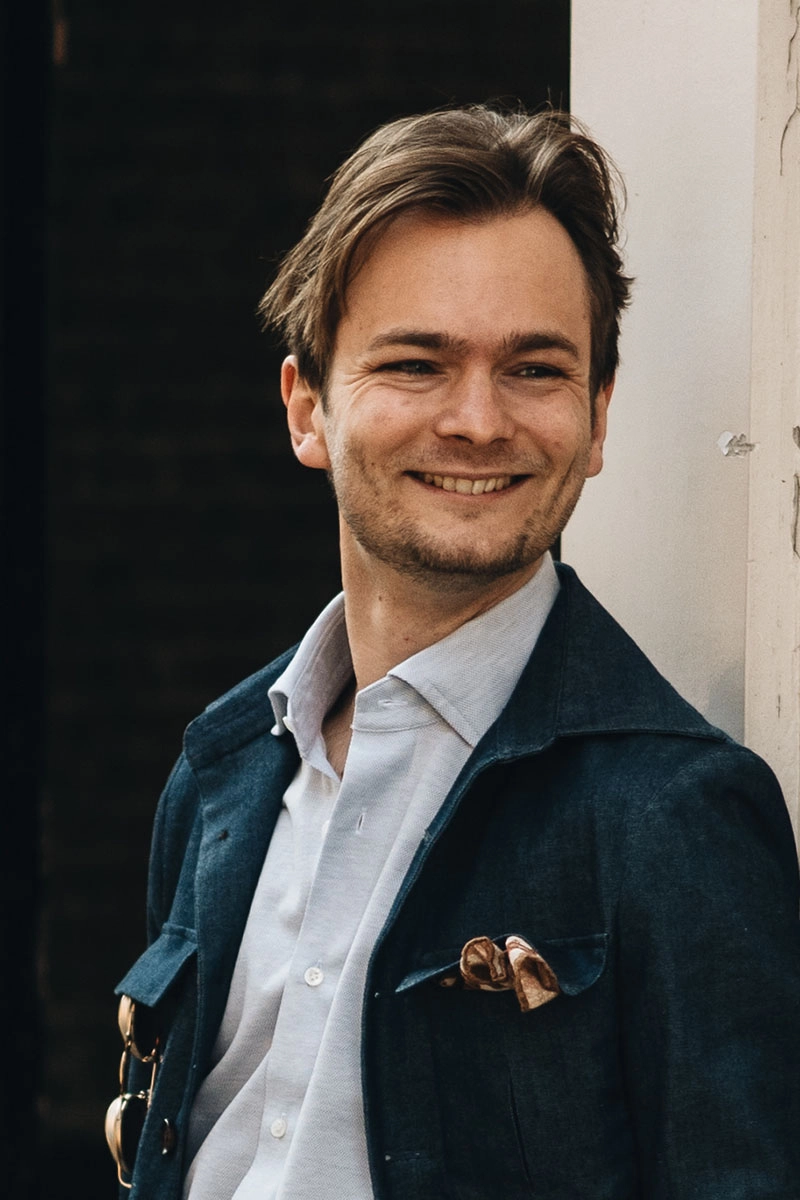 Tailor's Note - Tycho van Galen
"Designing Max's wedding suit was a great pleasure because he had experience with tailor made suits and he was open to a creative designing process. I have never designed a three-piece smoking in this colour! Also this wedding suit was just perfect for their classical Amsterdam wedding."
Adviesgesprek
Who did you bring to the first appointment, and why?
"I brought Ciarra, my now wife. We had discussed a bit what I was looking for but she was the brains behind the design of the entire wedding. I needed her help when picking out fabrics. I also wanted to include her in this fun process of customizing a suit."
In what way do you think the tailors have reflected your wishes in your wedding suit?
"The fit was great, I compare it back to some suits that I bought or had tailored in America and there's a clear difference in the feel of the suit. We worked together well to find a good balance of fun and formal."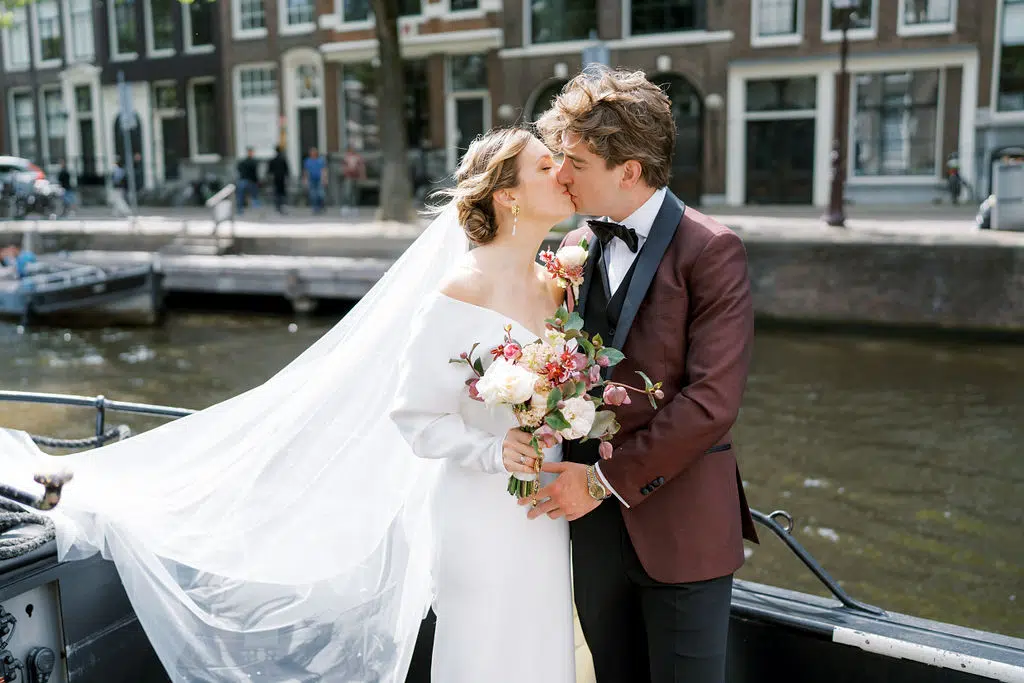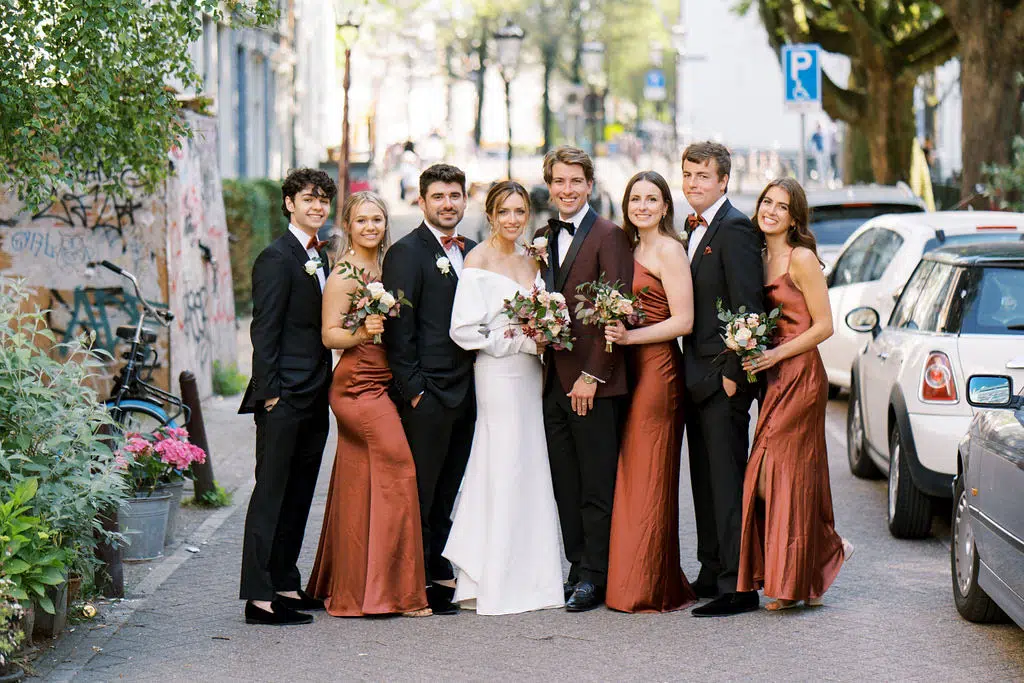 Why did you ultimately choose to get married in a colored smoking?
"I originally was going to wear black but after looking through all the fabrics and discussing, we determined that all black was boring. We found an awesome burgundy fabric from London that both stood out on its own but also blended in with the other colors that would be present on the day of the wedding. This ended up being a great choice and gave me some nice flair."
"Weddings are stressful enough as it is and getting ahead on the wedding suit takes one thing off your plate as the big day comes closer."
How were the reactions to your wedding suit on your wedding day?
"The reactions were great, I didn't tell many people what I was going to wear so a lot of people were surprised or at least interested in what I'd chosen. I can't tell you how many people complimented the smoking jacket. Looking back I think this was a great choice as it's a special jacket that I will have and remember forever."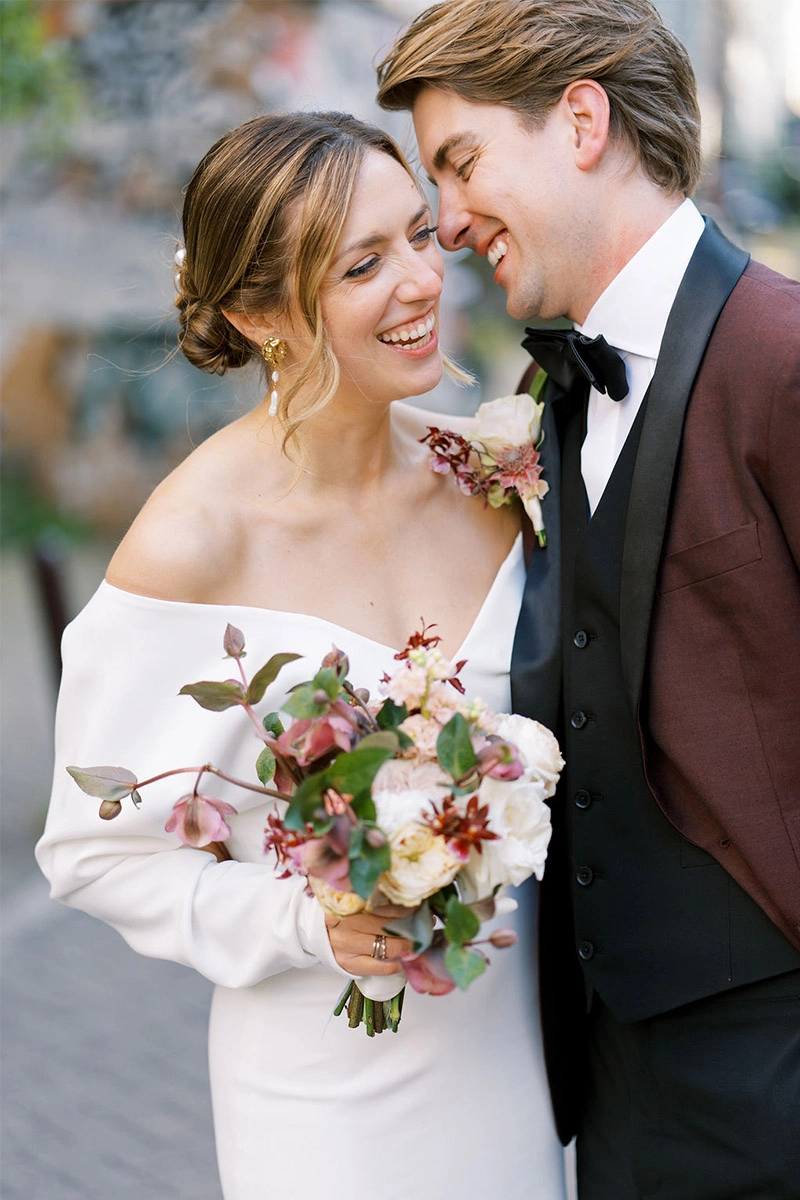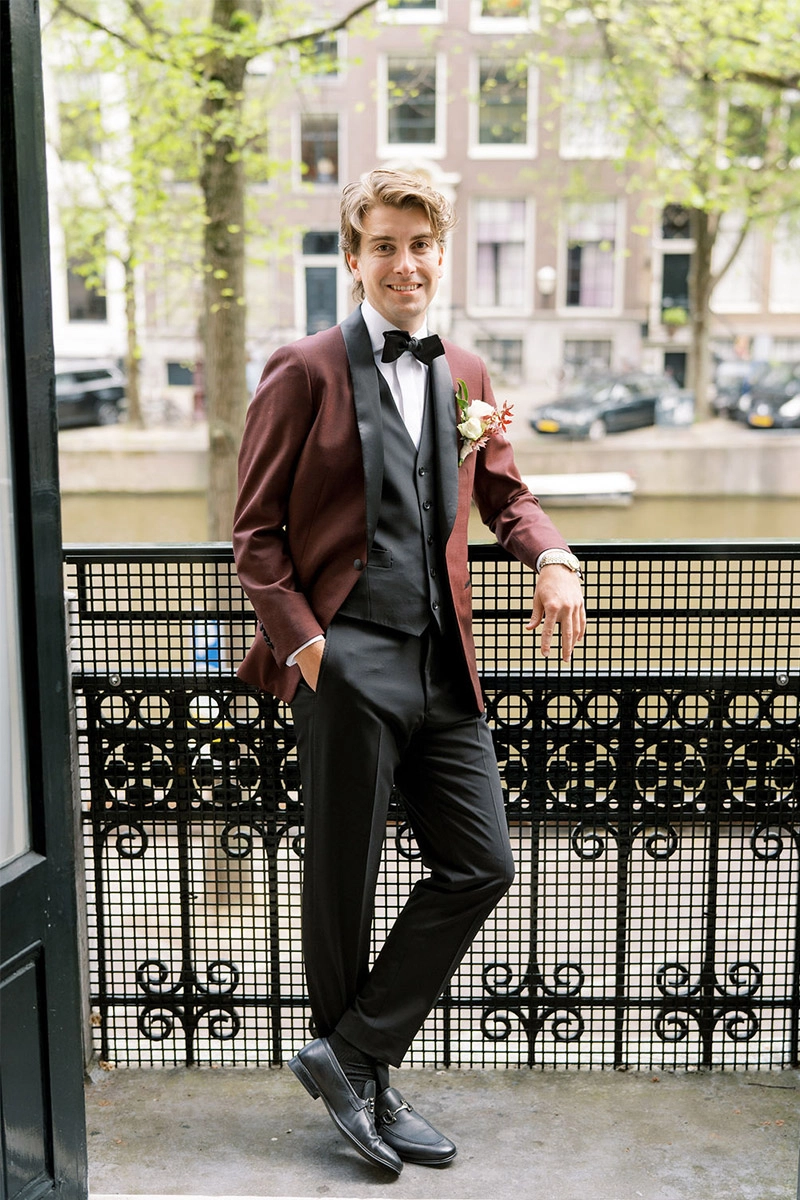 Do you have any advice for future grooms when they are looking for the perfect wedding suit?
"Don't be afraid to do something different, the smoking jacket was really fun and a memorable touch. Also be sure to find people who care about making a nice suit to help you out. I sure needed help along the way making decisions and getting to the finish line. Michael & Giso helped me a ton along the way. Last thing is don't wait until the last minute to start the process! Weddings are stressful enough as it is and getting ahead on the wedding suit takes one thing off your plate as the big day comes closer."