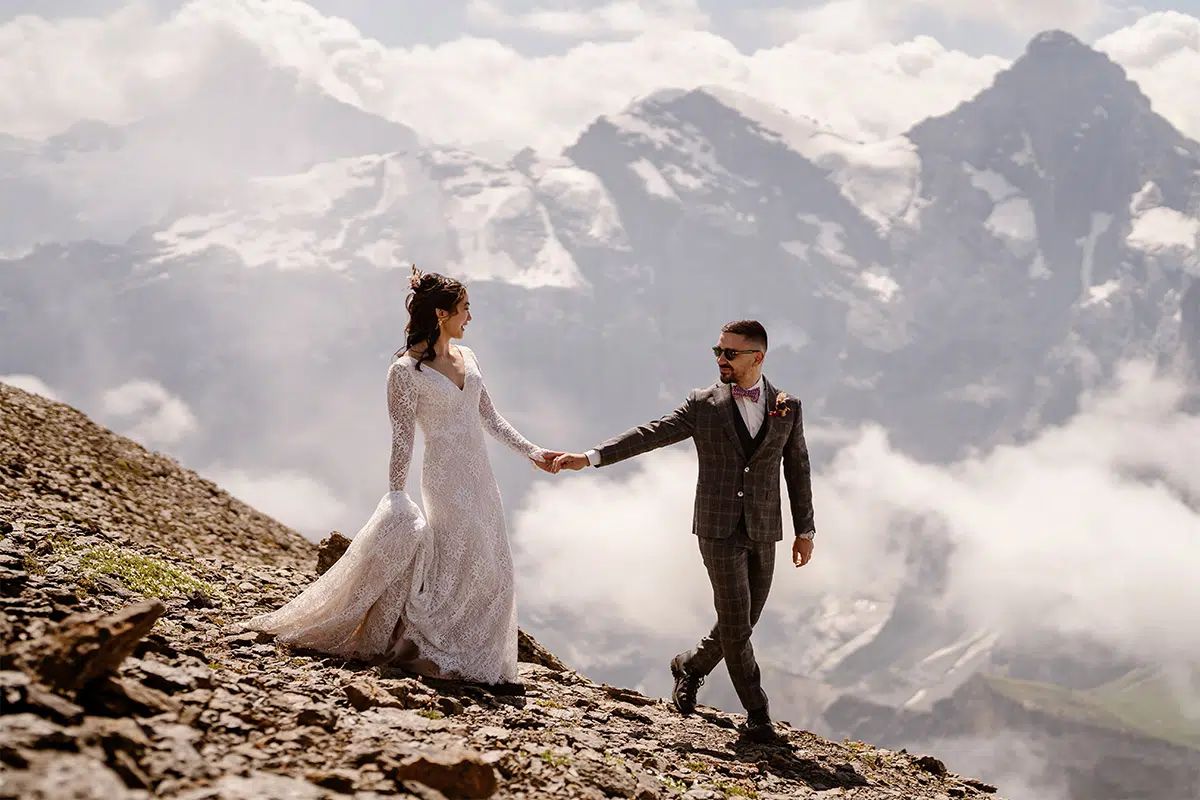 Oleg & Qiao-An
"My name is Oleg Belyy and in my daily life I am a construction engineer, a helicopter pilot in training, adventurer and practise multiple sports."
How did you prepare the proposal?
"Our love story started in the Himalayas in Nepal and since then, me and my wife have been hooked on mountaineering. I wanted to propose on top of the Mont Blanc which we had on our bucket list for that year. However, life had other plans and I had a leg injury which meant I needed to have a plan B. My future wife always dreamt of visiting Cappadocia and flying in a hot air balloon. As they say, there's no time like the present and I decided that I would propose there. Funny enough, 4 months after the proposal we still summited Mont Blanc!"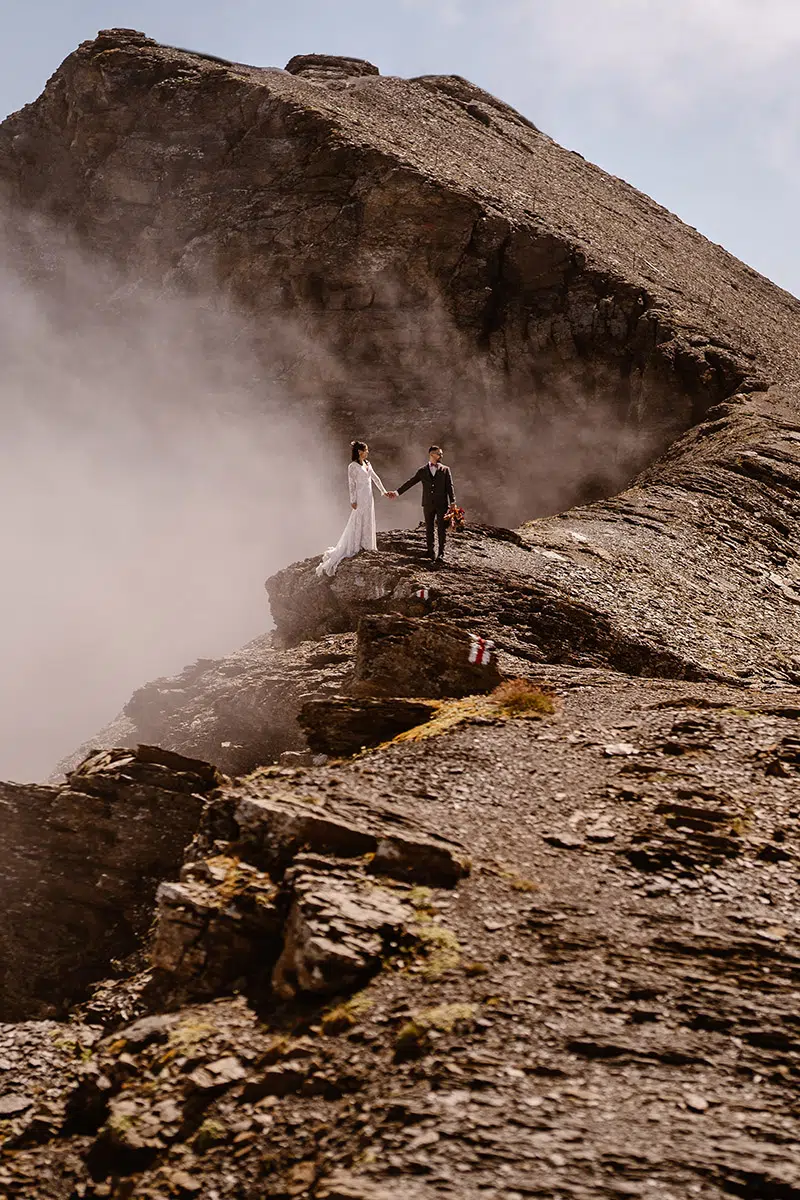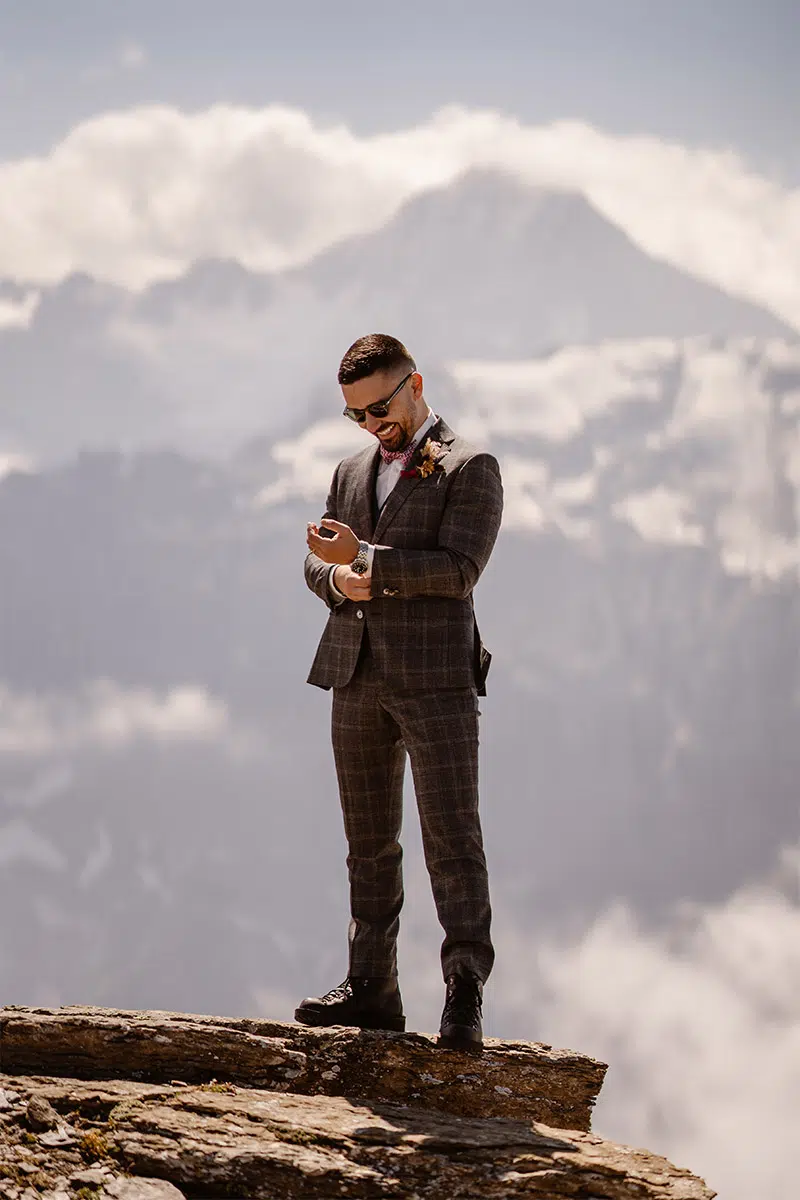 Why did you choose to do an elopement wedding?
"It was a decision that came naturally as we started talking about what we wanted to do on our wedding day. We envisioned a day where we were doing what we do best, traveling and exploring the mountains together. Exchanging our vows, surrounded by mountains, waterfalls and a lake at sunset was a dream come true."
"The elopement was definitely a dream come true!"
When and how did you start looking for your wedding suit?
" I started looking for a wedding suit in January 2020 which was 6 months before the original wedding date. We have had to postpone this day for a while so I was happy that the suit still fit me in 2021."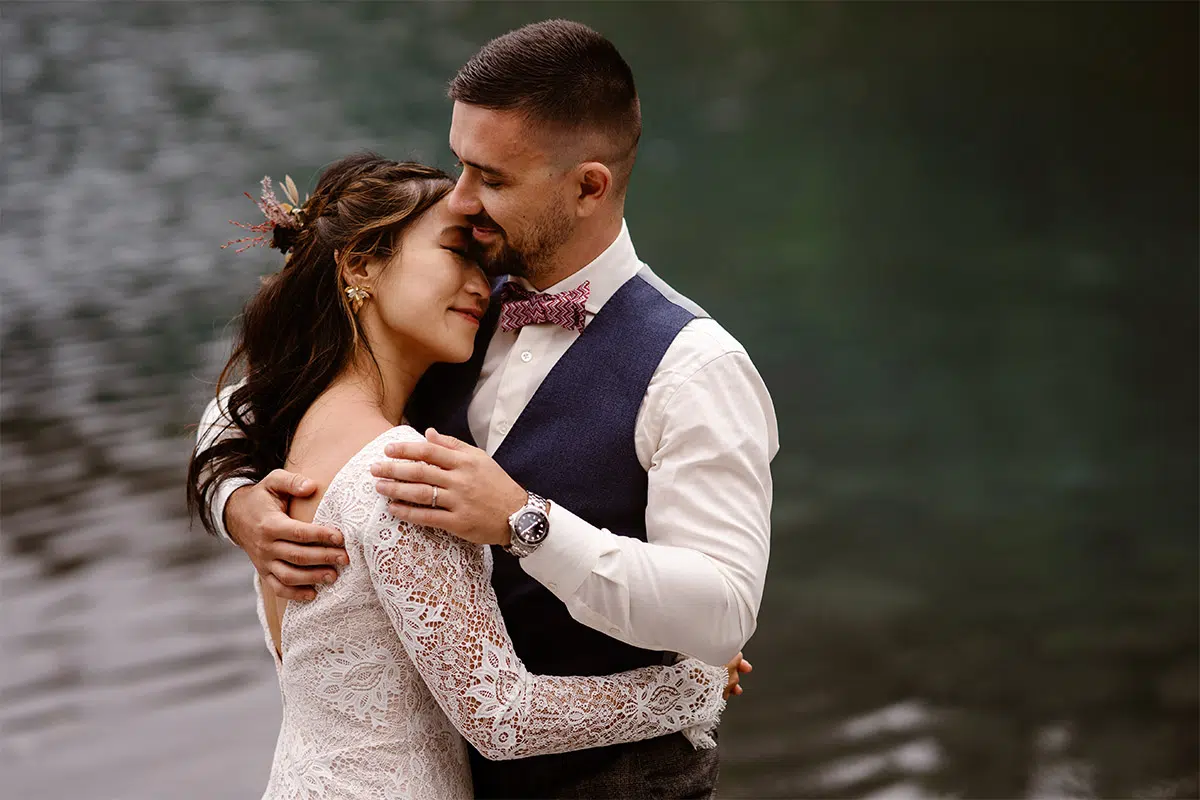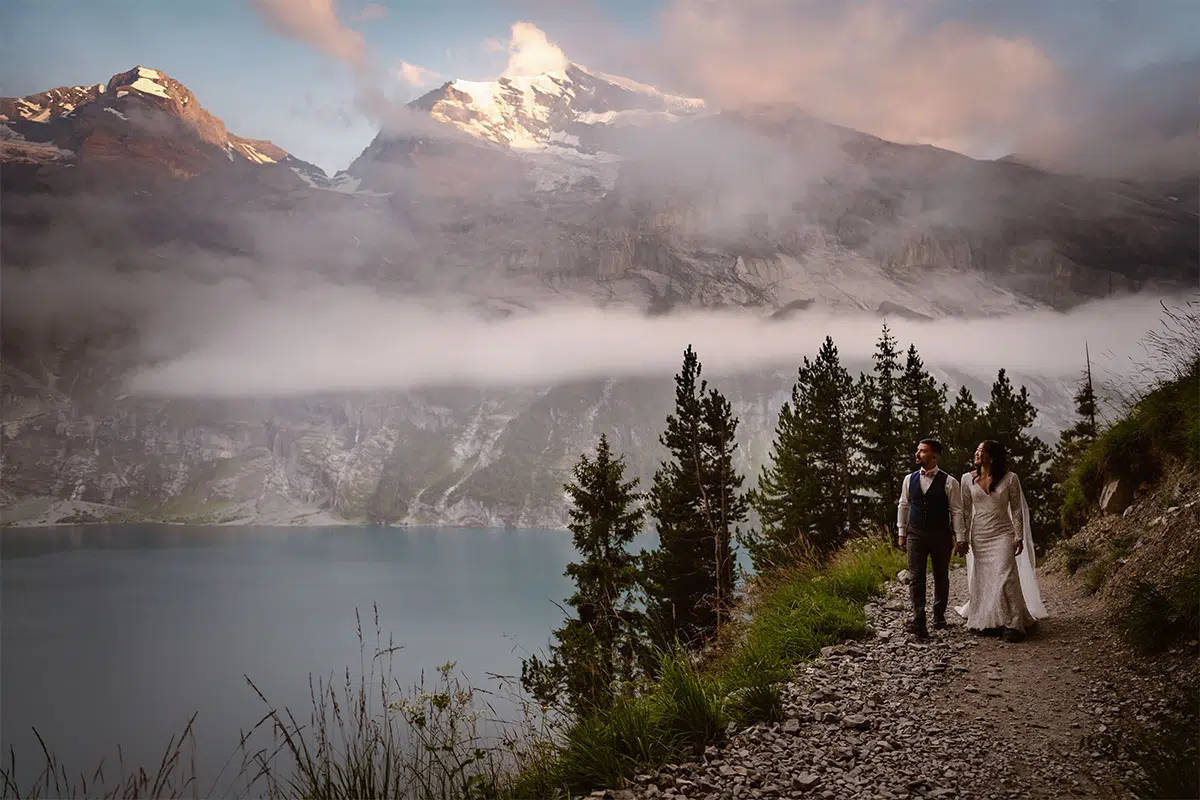 How did you end up at Michael & Giso, and what was the decisive factor in choosing your wedding suit here?
"Through a combination of a friend's recommendation and social media. When I walked into Michael & Giso I noticed the relaxed and welcoming atmosphere which is quite unique. Usually, when you walk into a store with tailor-made suits it feels a lot stiffer. The staff at Michael & Giso are professional and knowledgeable and helped me create the perfect combination. They are patient and really make the experience about you."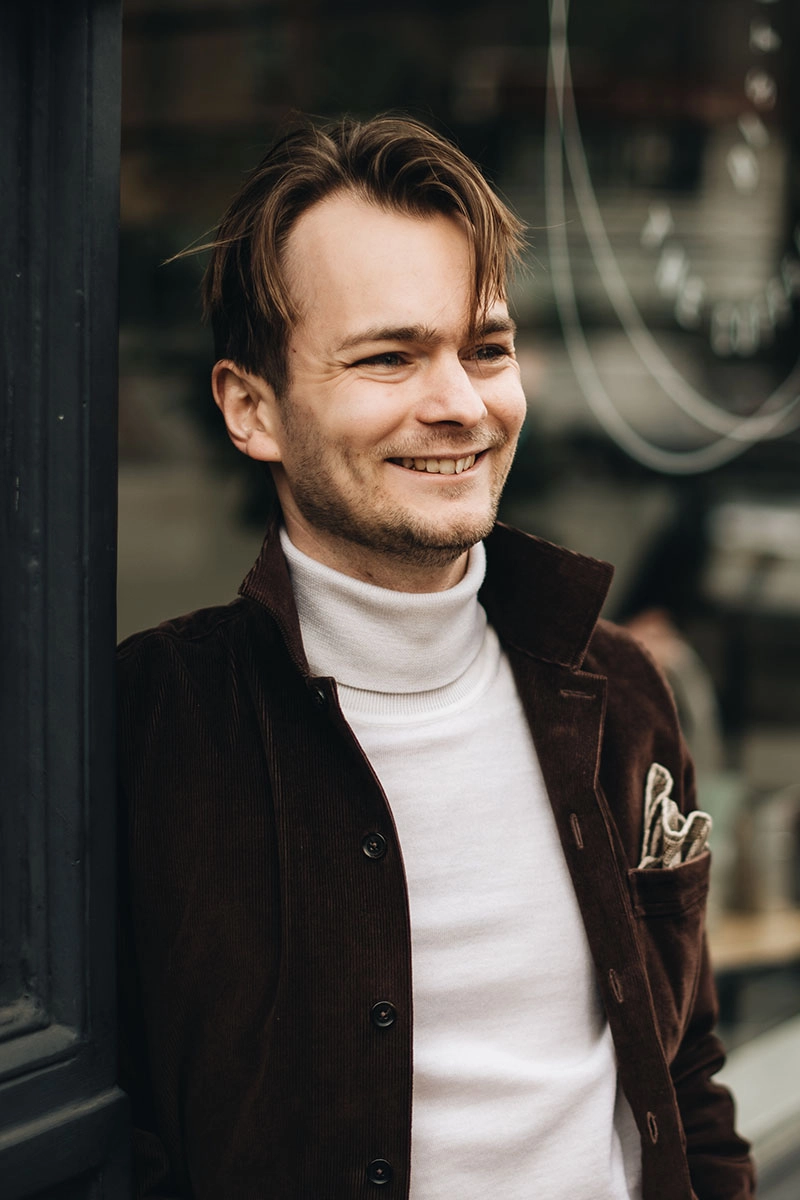 Tailor's Note - Tycho van Galen
The suit fit almost perfectly at the first fitting moment. After that, we only had to make minor adjustments and we added a nice bow-tie for the finishing touch!
Adviesgesprek
Who did you bring to the first appointment, and why?
"I brought my wife to the first appointment because no one else knows me better than her."
"I noticed the relaxed and welcoming atmosphere at Michael & Giso, which is quite unique."
In what way do you think the tailors have reflected your wishes in your wedding suit?
"I wanted a suit that I could literally hike in the whole day, so it had to be durable, light, and comfortable. The suit definitely checked all of the above."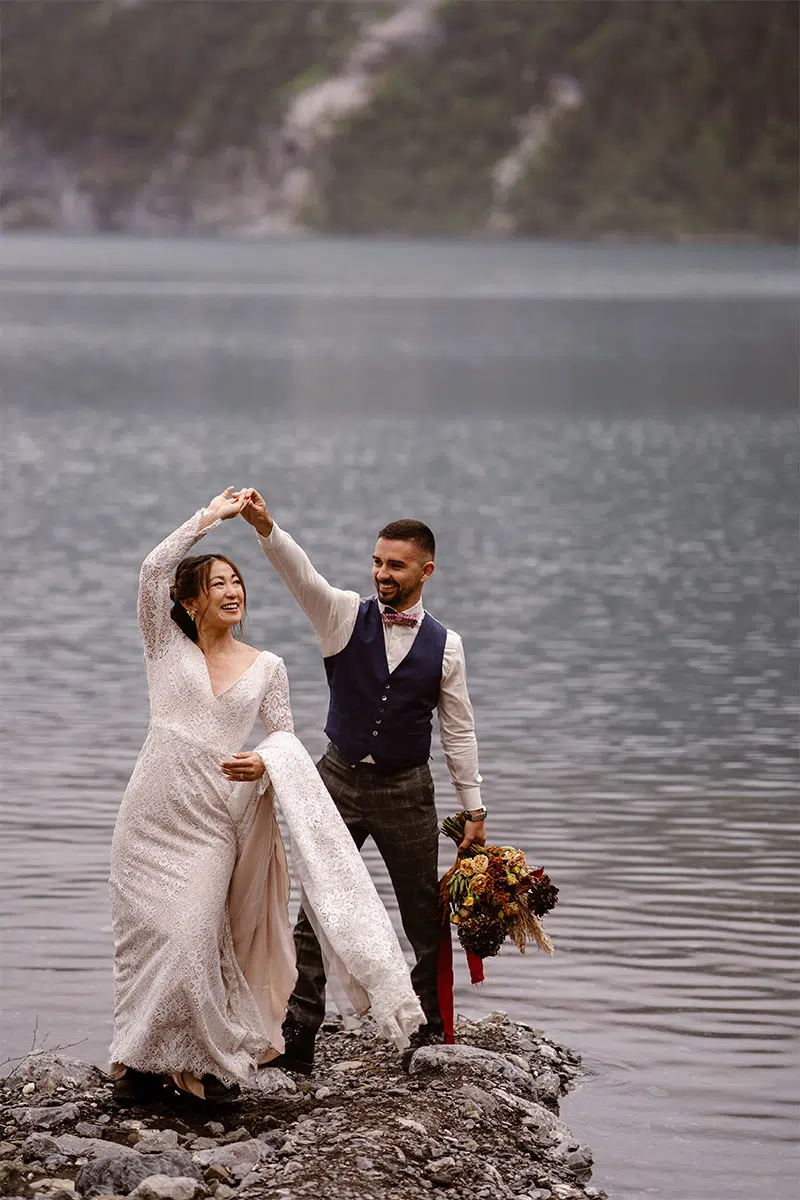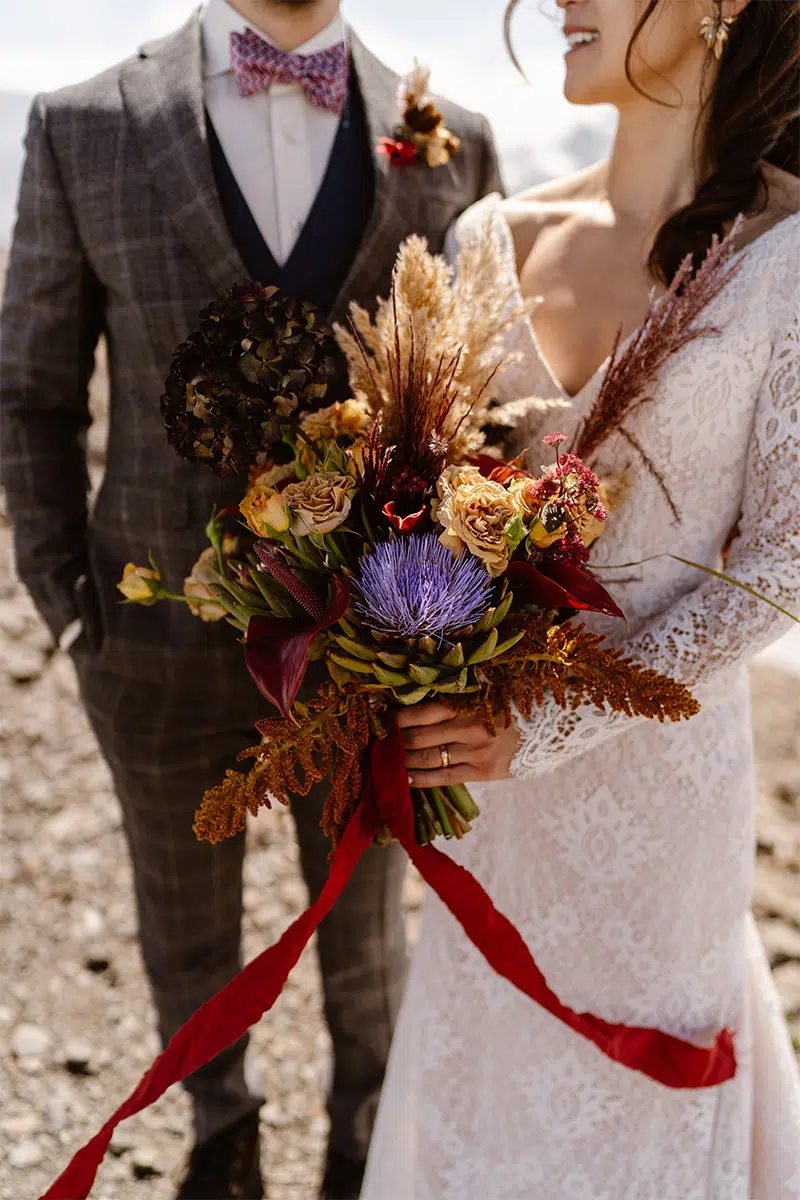 Why did you ultimately choose to get married in a suit with a pattern and a bow tie?
"I really wanted a suit that would complement as well as stand out in the Alps."

How were the reactions to your wedding suit on your wedding day?
"Eloping in the mountains in full wedding attire attracts a lot of attention so we got a lot of congratulations, compliments that we looked great and sneaky pictures taken of us by other hikers."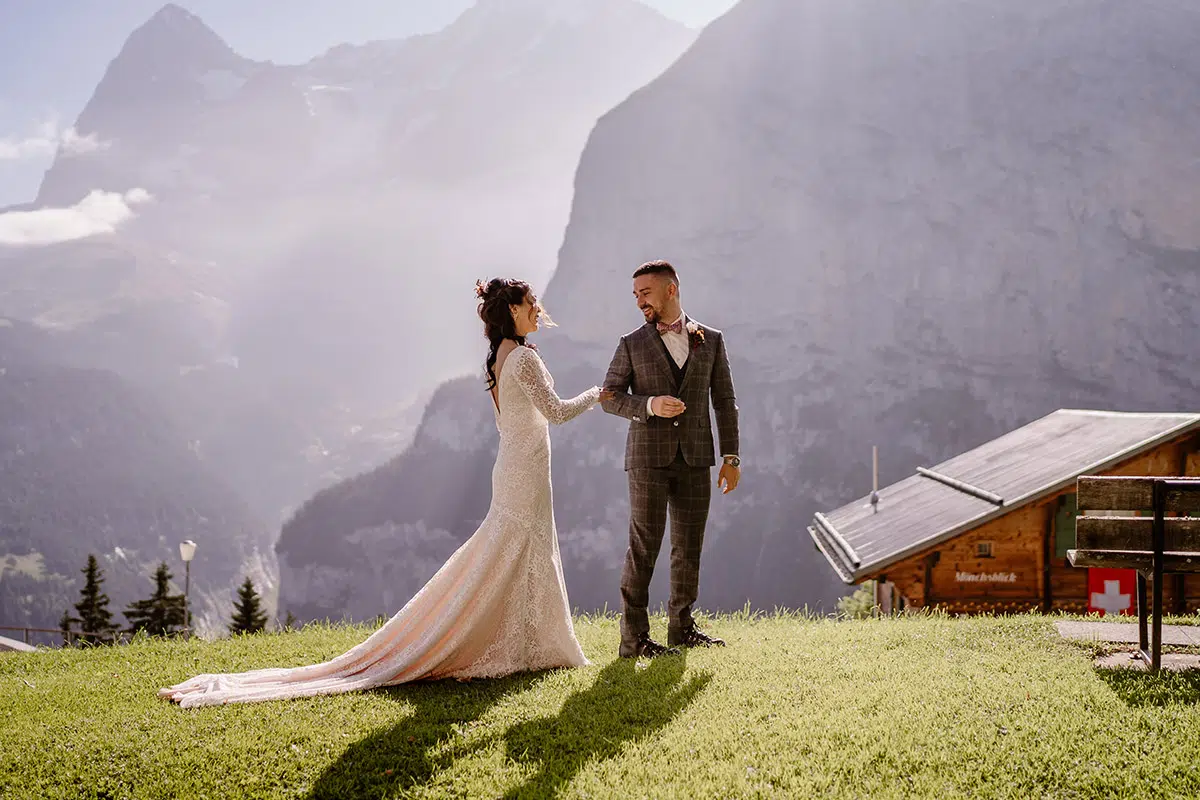 What was the most difficult choice for your wedding suit?
"Deciding on the color, as there was a lot of choice!"
Do you have any advice for future grooms when they are looking for the perfect wedding suit?
"Stay true to yourself, follow your intuition, and don't be afraid to ask for advice from the experts at Michael & Giso."
Photography: Adventure Instead (Maddie Mae)