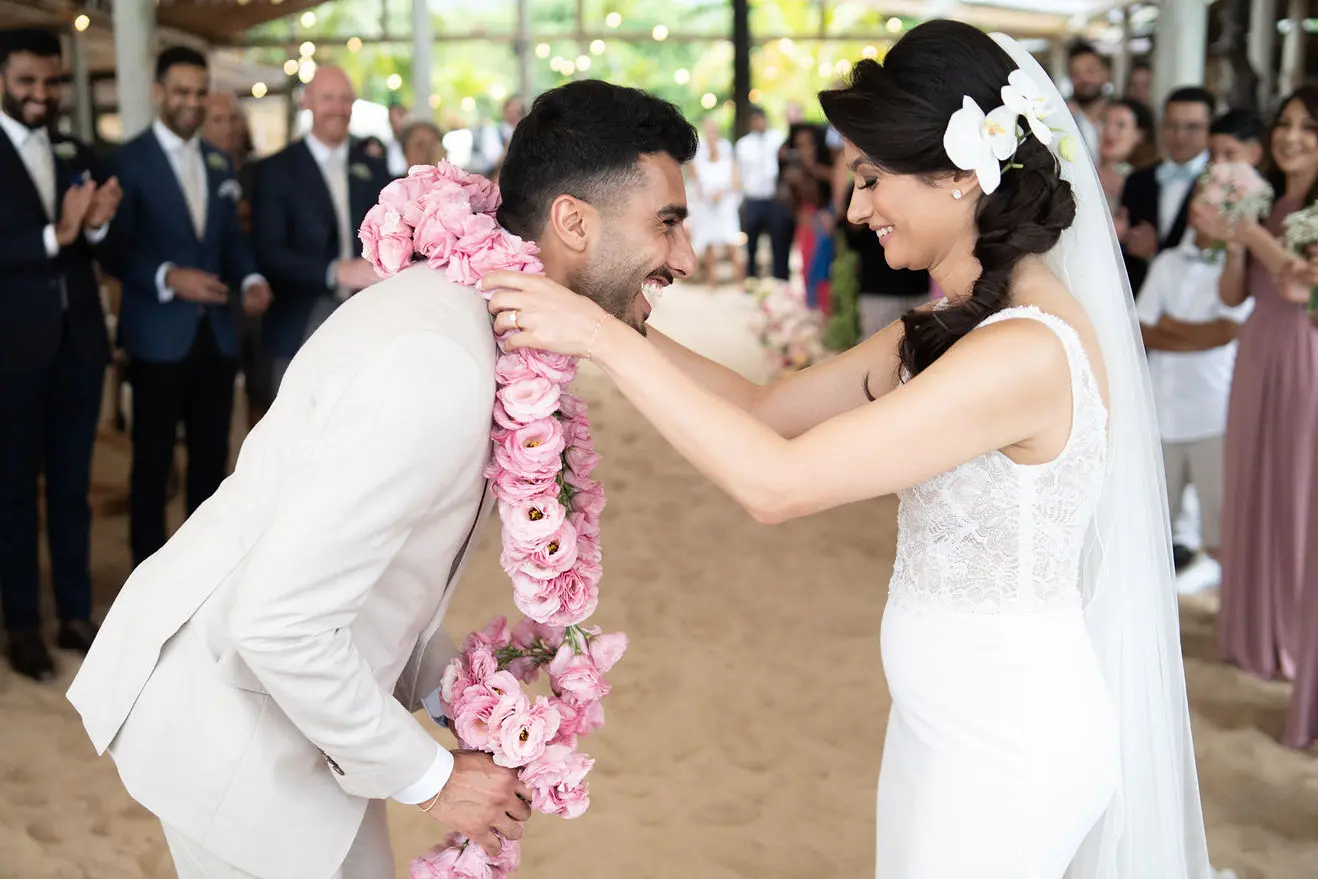 Shonik & Thamires
"I am Shonik, 31 years old, born and raised in the UK, but with Indian descendants. I am a huge sports enthusiast, which is why it gives me great pleasure to work at Nike. I currently am in the finance department working within the Kids category with a mission of making kids fall in love with sports."
How and where did you meet your wife?
"I met Thamires in Dubai. I was attending my best friend's brother's wedding and Thamires was working at one of the wedding events. I instantly fell for her the moment I saw her, but it took me a few hours and a bit of "Dutch courage" for me to go up and speak to her. We kept in touch after the wedding and I would go back to Dubai to visit her. Thamires then moved to Austria to do her Master's Degree and I moved to Barcelona where we continued our long-distance relationship for 3 years until Thamires moved to Barcelona."
How long have you been working in the Netherlands?
"2 years – May was our 2nd anniversary here."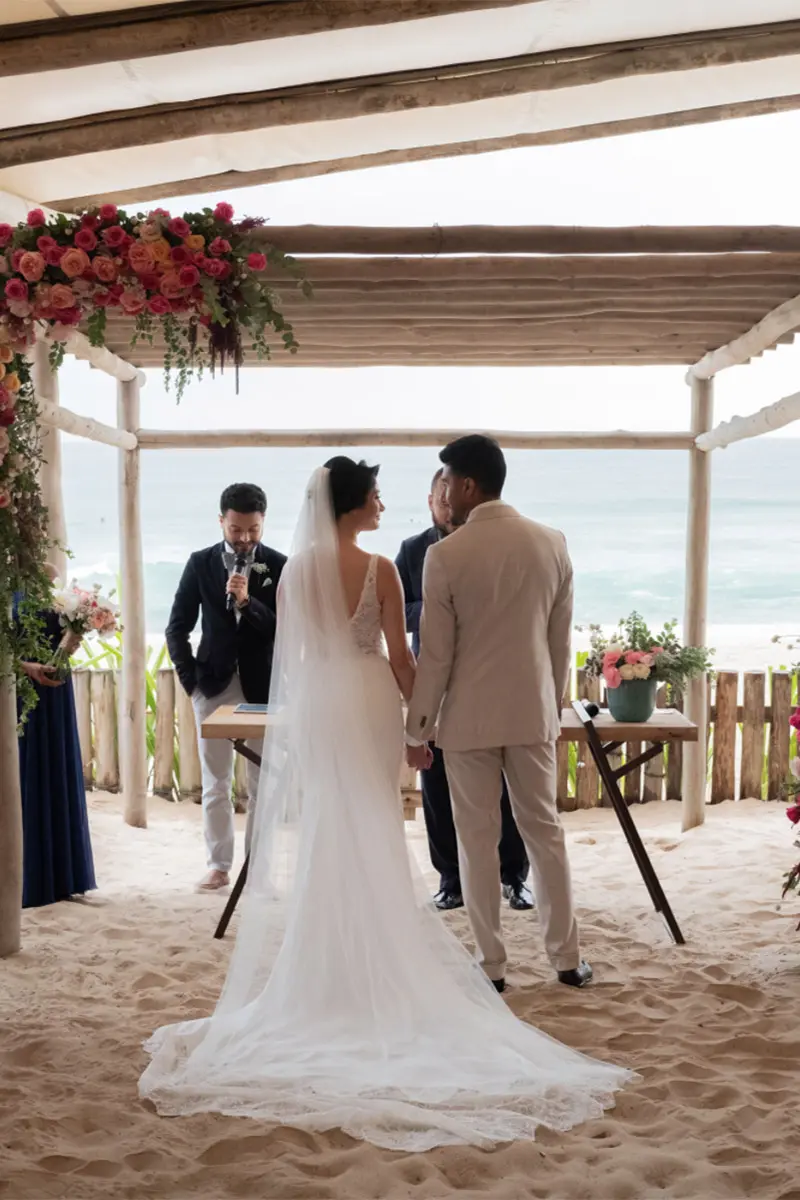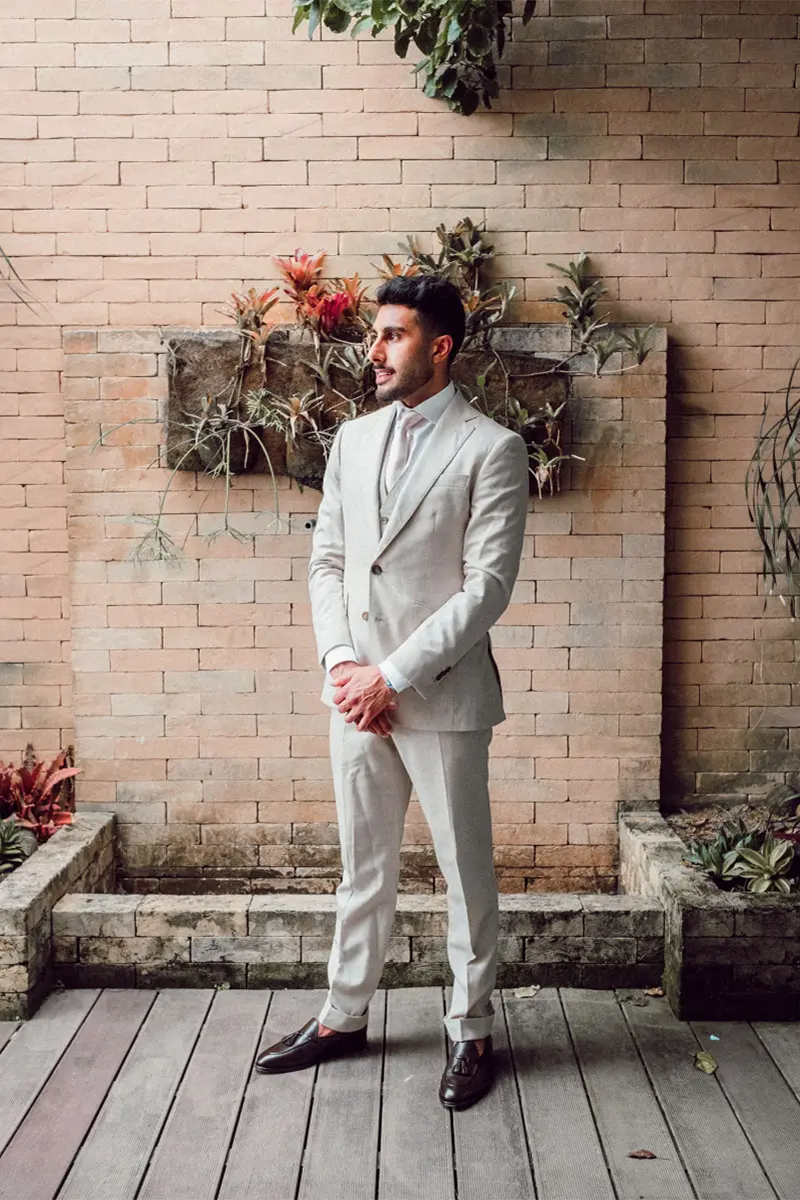 You've been married in Brazil last February, what was the reason for this special destination?
"Thamires is from Brazil and that's where the majority of her family resides. I've always found destination weddings to be that bit more special and memorable, therefore we decided to do it in Brazil. This way we could also do it on the beach. It was an opportunity for my family and friends to meet Thamires' family and friends for the first time after 5 years of being together! And it was a great excuse for them to travel to Brazil for the first time!"
Can you describe your wedding day?
"The day before the wedding we hosted a welcome party with all the guests. The setting was informal, but it was a great ice breaker for all the guests to meet and it allowed Thamires and I to spend some time with them, where otherwise we may not have been able to on the actual wedding day. This helped settle the initial nerves for the wedding day. However, those nerves soon re-appeared as Thamires turned up 1 hour late to the altar leaving me worried whether she would turn up at all! However, it is traditionally Brazilian to turn up late to all events. Another reason why we decided to have the wedding in Brazil was that the weather tends to be more predictable, and warmer, than in Europe. But believe it or not, it rained for a period on the wedding day!! Luckily the majority of the venue was covered so guests did not get wet. Our ceremony lasted 45 minutes because we did have a translator – the ceremonialist conducted the ceremony in Portuguese and Thamires' brother translated it into English so both sets of guests could follow. Following the ceremony, we had some pictures taken with our guests before cocktails and canapes began. We went to dinner, speeches, and our first dance before the party began!"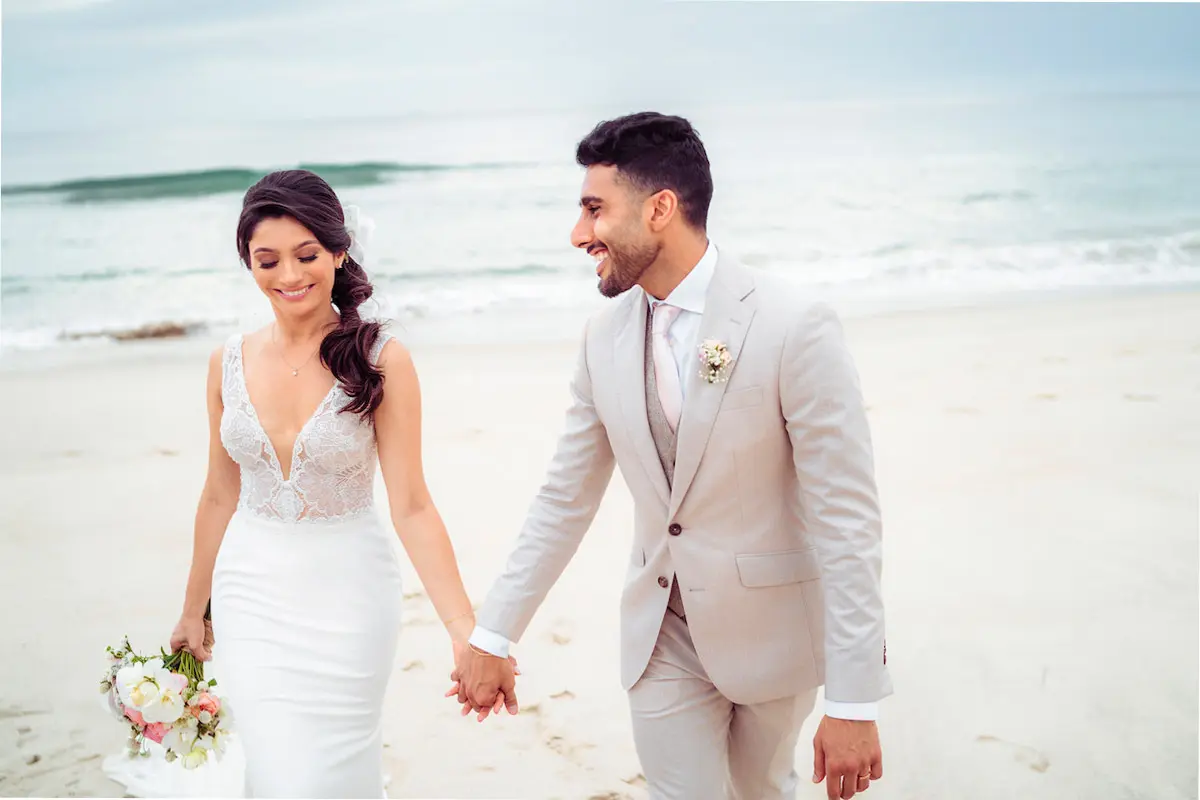 What are some traditional customs and traditions of a typical Indian and Brazilian wedding? How does it differ from a typical Dutch wedding?
"We decided not to do a religious ceremony, but we did decide to take the best traditions from each of the Indian and Brazilian weddings and apply it to ours. For example, during the welcome party, we did the "Haldi" ceremony, where friends and family apply turmeric paste over the bride and groom's body. The turmeric is mixed with water to create a paste and this is what "Haldi" is. It is an Indian tradition the day before the wedding and growing up I never bothered to find out the meaning behind it… it was just fun to do. But knowing we would do it at our wedding, I found out that the significance of it was for beautification – in the olden days when beauty salons were not available, Indians had their beauty ingredient, which was Haldi. By applying it over the bride and groom, it would leave their skin looking radiant and glowing for the wedding day.
"I'm delighted to say I chose the right one."
Also, on the wedding day, Thamires surprised me by reciting an Indian prayer that I say daily thanking God for the life given to us. She also did a Bollywood dance, dressed up in a Saree (a traditional Indian clothing garment for women). A well-known Brazilian tradition I did was having my tie cut by our guests during the wedding party (when everyone was drunk and having a good time). Here, the groom's tie is cut in exchange for money – the more someone donates, the larger the piece of the tie they can cut. I swapped my wedding tie for a similar looking one so I can still keep my wedding tie as a souvenir, but I didn't tell my guests this!"
Did you have any experience with bespoke clothing prior to your wedding?
"Only for my sister's wedding a few years back – we went to India to pick out our family's outfits and I had a bespoke Indian outfit and dinner jacket made for me for the wedding day."
What were the reasons for choosing Michael & Giso for your wedding suit?
"Actually, we came across the Michael & Giso store randomly. We were on our way to another suit store and I had parked the car just across the street from Michael & Giso. The suits on the mannequins in the shop window looked nice, so we decided to go in to take a look. We received such great service and hospitality from Michael and the staff as soon as we stepped in. They were genuinely interested in us and getting to know us and the service throughout was extremely personalized. Apart from the great suits, the service and care we received was the main reason we bought a suit here. The fact that they got to know both Thamires and I on a personal level helped with the recommendations they gave for a suit they felt I would like most."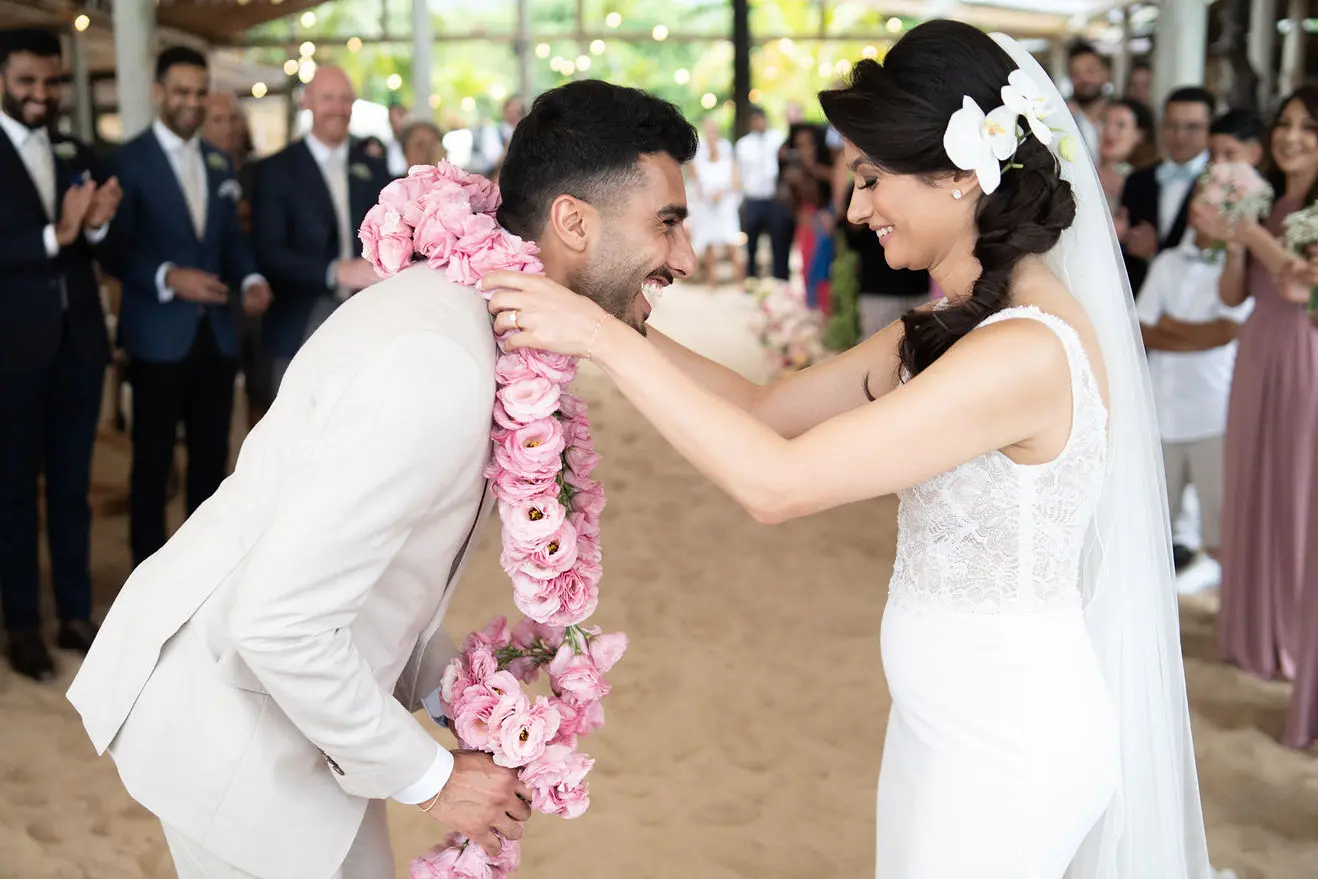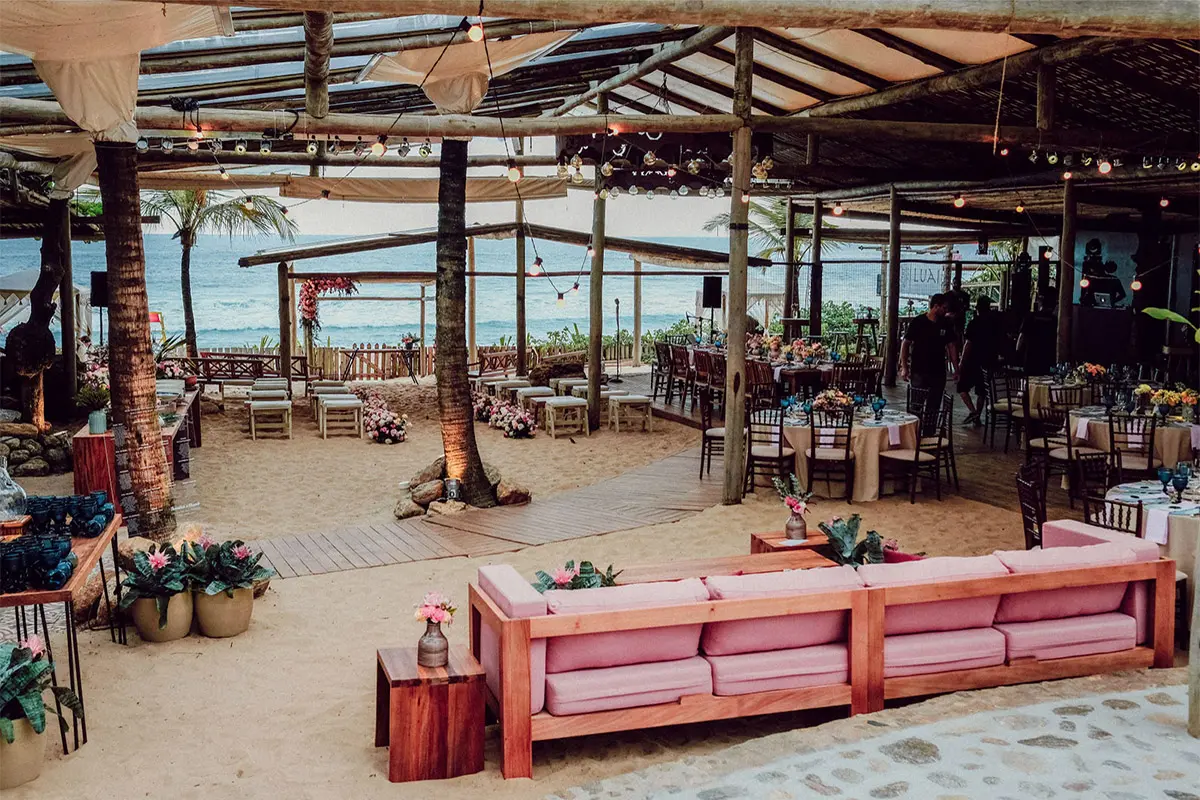 How did you experience the process of choosing the right fabric?
"Before buying the suit I already tried to get some inspiration through Instagram and Pinterest. I knew I wanted a light-colored suit as it was a summer wedding and I narrowed down my color to beige even before going suit shopping. I didn't know too much about fabrics and which ones were used in the pictures I got the inspiration from, but this is where Michael & Giso helped. There were numerous types of fabrics to choose from but after understanding the type of look I was going for, we were able to narrow it down. For example, we ruled out 100% linen because I wasn't a fan of the wrinkled look it would give, but linen is a fabric that is very breathable and would be more comfortable to wear on a warm day. The good news was that some fabrics had a blend of different materials and linen. I was able to get the right mix between a breathable suit and one which had a minimal wrinkle effect. I did change my mind a few times on the fabric chosen, therefore I was a bit nervous after ordering my suit, however, I was also confident I made the right choice as I spent the majority of the suit shopping time choosing the fabric.
"Michael & Giso is a mix of very high-quality product and extremely personalized service."
I went against Thamires' recommendation and chose one without her being there, which made me a bit more nervous! However, I am delighted to say that I made the right choice and when we saw the finished suit for the first time we were blown away. It was a beautiful material and the look of it was amazing. I tried it on and it was perfect! So perfect that Thamires started to cry when she saw me! (I believe they were tears of joy rather being tears of her getting cold feet!)"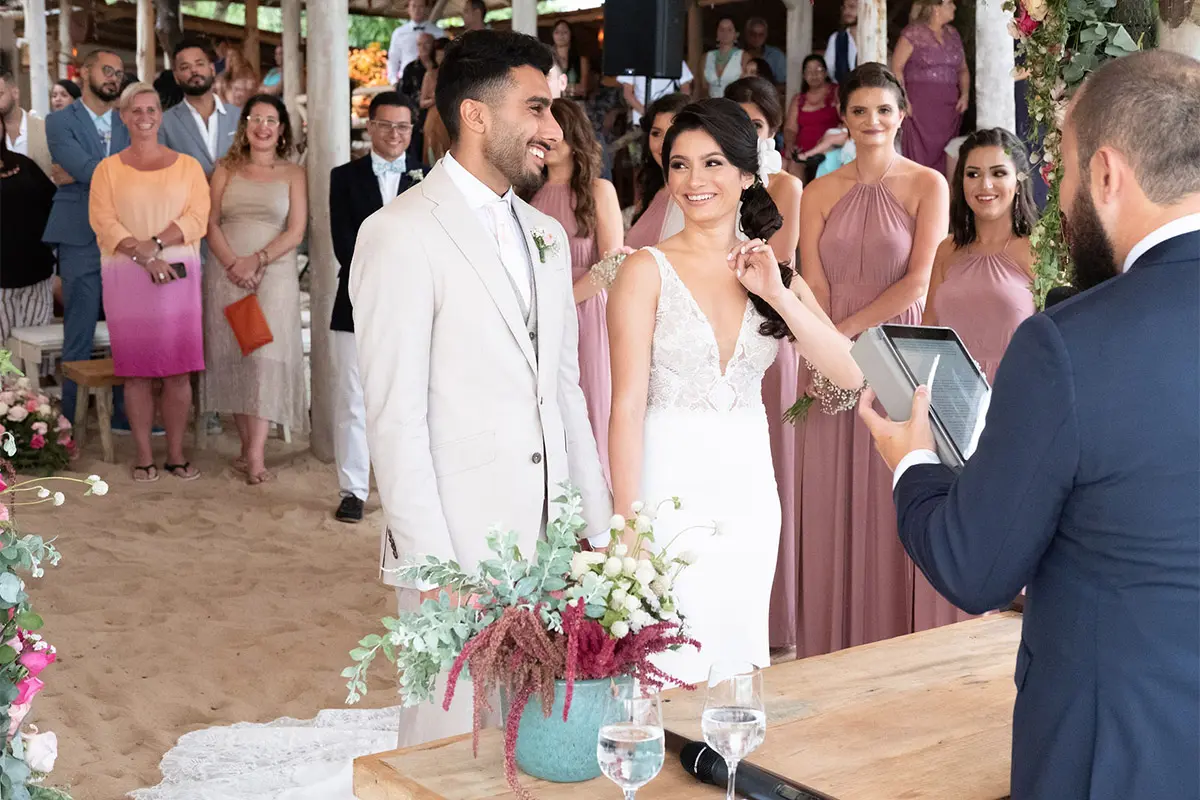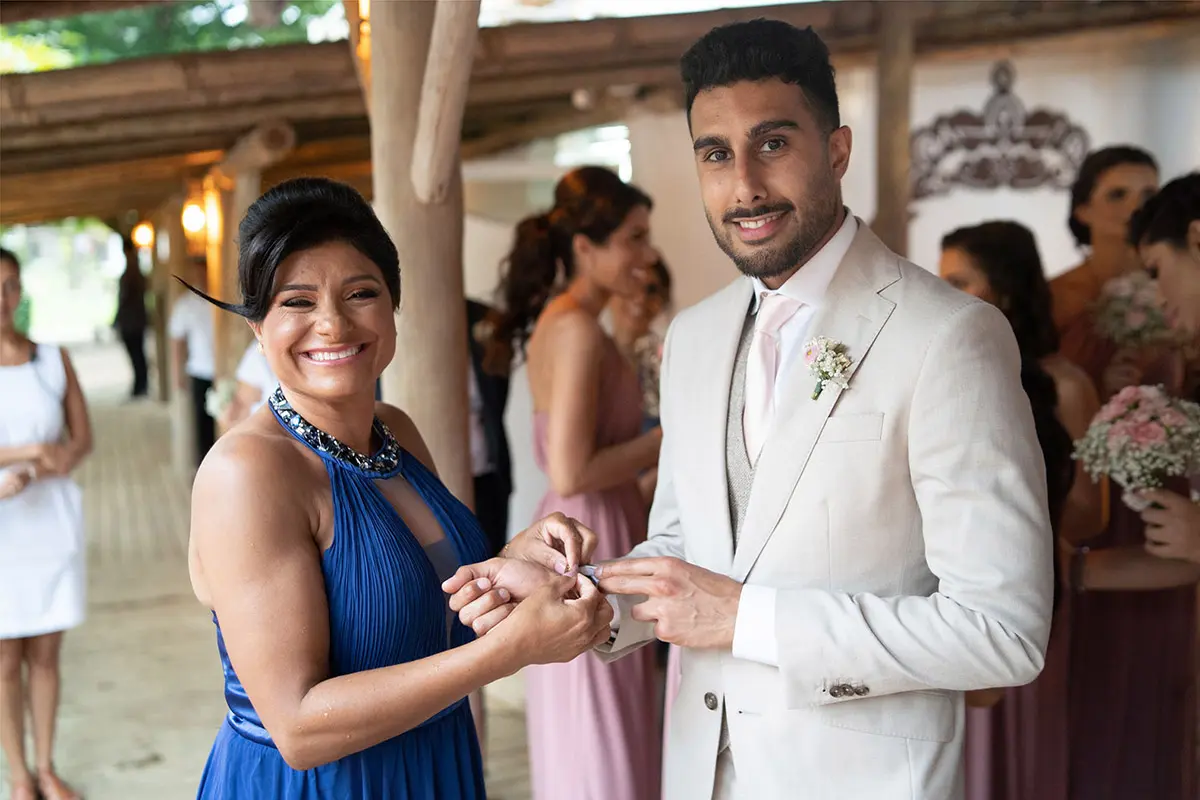 You've picked a 3-piece suit for the occasion. What was the reason for this decision?
"I initially didn't want to go for a 3-piece suit because we had were having a beach wedding and I thought I may get too hot. However, after trying one on, I felt the waistcoat just made the look that bit more special. I knew my guests wouldn't wear a 3-piece because of it being too warm, therefore it was one of the opportunities to stand out. It also allowed me to keep more of the formal look during the reception when I wanted to take my jacket off."
Do you have any golden rules or useful tips for future grooms?
"I have 2 golden rules which I want to share that I believe helped me. Number 1 is to give yourself plenty of time ahead of the wedding to choose your suit. There are so many options to choose from – color, fabric, type, fit, etc and on top, you need to choose shoes, a shirt color, a tie/bow-tie color. As a guy, I always believed it would only take me 1 month to do all this, but Thamires encouraged me to start earlier and I am glad I did. It took me 4 months for the entire process and I already had an idea of what kind of suit I wanted. Give yourself this kind of time especially if you're someone who may find it difficult to do this during the week as I did – I only had the weekends for this.
Number 2 is to buy your suit from somewhere where they genuinely show their interest in you. There were stores in which I went in where I felt I was just another customer. You will never get the same care and attention that you deserve, which is likely to have an impact on the final product. Your wedding usually only comes around once and you are making a big investment here, therefore the supplier needs to show why they deserve you!"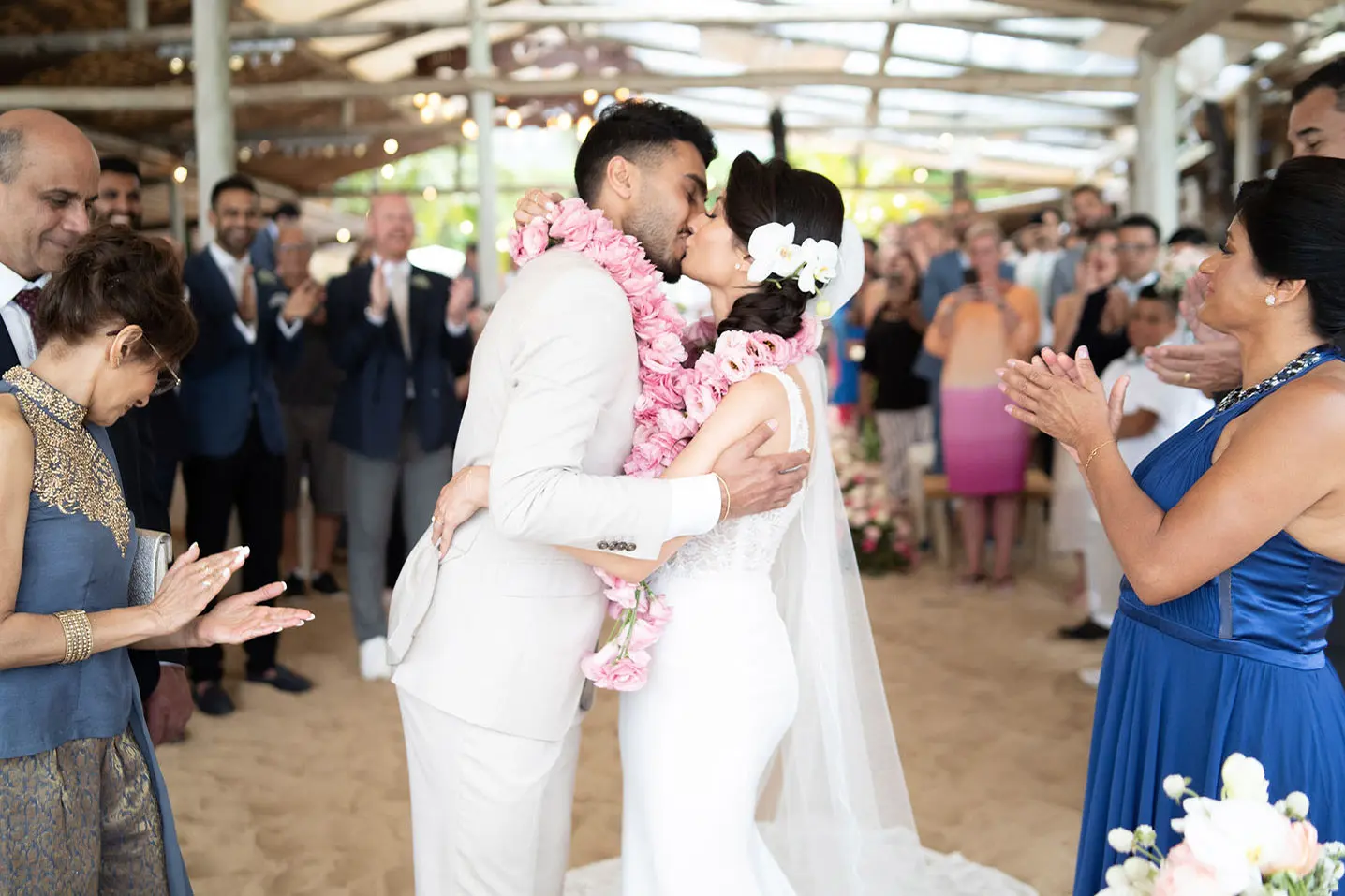 How would you describe Michael & Giso?
"Michael & Giso is a mix of very high-quality product and extremely personalized service. Service is definitely one of their unique selling points that differentiated them from the other stores I visited. I truly believe by getting to know Thamires and me more personally, I was recommended a better suit. Their staff was extremely friendly, approachable and flexible. I was mainly dealing with Michael every time I had an appointment, which made the process more personable and seamless. On top of that, I was extremely happy with the final product. Choosing and buying a wedding suit is a big investment in terms of time and money, therefore having the right supplier is critical. I'm delighted to say I chose the right one."
Photographer: Rafael Fontana